Water Process Chiller is designed to meet the needs of many applications that require stable working conditions with maximum quality and cleanliness of the cold process fluid.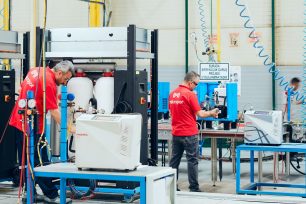 Our brand-new compact, robust and reliable MCHILL Series Water Process Chiller is designed for industrial applications and manufactured with the highest quality and safety standards. MCHILL is not only extremely compact and easy to use but also ensures an accurate control of water temperature.
MCHILL Series is used for Food & Beverage Industries, Wineries, Dairies, Breweries, Bottling, Storage, Plastic Industries-Injection, Extrusion, Blow Molding, thermoforming, Laser Industry-Cutting, Welding, Profiling, Optics, Medical; Chemical & Pharmaceutical Industry-Natural Gas, Jacketed Vessels, Polyurethane, Laboratories, Healthcare, Petrochemical, Temperature Control; Engineering Industry-Machine Tools, Welding Machine, Cutting, Profiling, Polishing, Rolling, Presse; Hydraulic Control-Oil Cooling, Heat Treatment applications.
Besides MCHILL Series brochure, you can download the product catalogue and the other brochures on the left panel in order to see our wide variety of products.