With more than 30 years of global filtration experience as a World Class Manufacturer utilizing state of the art technologies and equipment, we understand our customers' demands and thus are the preferred partner for ATEX applications worldwide.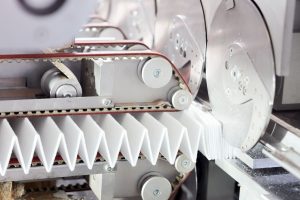 In various ventilation applications in the industry, recycled process air can contain particles generated from the production which can contain electrostatic charges. When filters catch these particles during the circulation, they also absorb the electrostatic charge in the filter media and frame. In addition, if there is a source for explosive gases or aerosols in the atmosphere, with the help of the sparks created by the filter due to electrostatic discharge, there might be serious risks of fires or even explosions. Therefore, filters used in these kinds of environments have to be Ex-Proof.
In order to avoid explosion risks, the European Commission declared ATEX Equipment Directive 2014/34/EU. Mikropor filters are manufactured according to 2014/34/EU and additional supporting directives issued by the EU.
Mikropor, as a leading manufacturer of Air Filters, serves the widest range of ATEX Certified Ex-Proof Filters for each stage of filtration to a variety of industries.
You can download brochures on the left panel in order to see our solutions based on ATEX and the other applications.
Pharmaceutical
Petrochemical
Food & Beverage
Automotive
Defense
You can download our product catalogue in order to see our wide veriety of products on the left panel.