Using clean, dry air is extremely important for all kinds of air powered applications. Moisture or contamination in the air which will come from the standard compressor outlet will cause complicated system errors. These complications will decrease productivity and may affect the production quality of final products. We are aware of the importance of high quality compressed air and guarantee to provide our customers with the highest quality of air.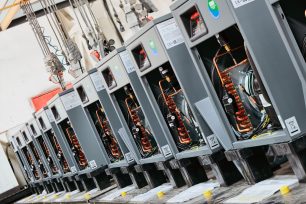 We provide an entire range of products for filtration and air purification applications. Food production, dairies, breweries, clean conveying air, chemical plants, pure air and cleanroom technology, pharmaceutical industry, weaving machines, photo labs, paint spraying, powder coating, packaging, control and instrument air, sand and/or shot blasting, general air works, microchip production, optics, process air as well as many other markets.
You can download our product catalogue and brochures on the left panel in order to see our wide variety of products below.
Non Cycling Refrigerated Compressed Air Dryers
Static Refrigerated Compressed Air Dryers
Cycling (Thermal Mass) Refrigerated Compressed Air Dryers
Digital Scroll Refrigerated Compressed Air Dryers
Modular Desiccant Compressed Air Dryers
Heatless Desiccant Compressed Air Dryers (PSA)
Heated Desiccant Compressed Air Dryers (TSA)