With more than 30 years of global filtration experience as a World Class Manufacturer utilizing state of the art technologies and equipment, we understand our customers' demands and provide the ultimate solutions for Laminar Air Flow systems with the widest possible range.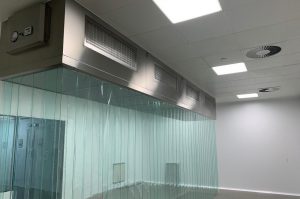 Aside from the actual air quality generated for cleanroom applications, it is vital to avoid unintended contamination (chalking) for the reliability of the processes. In Pharmaceutical, Food & Beverage, and other similar industries, it is extremely important to force contaminant particles (airborne or generated during the process) away from finished products and employees. An alternative way to avoid contamination risks is to implement a Laminar Air Flow System in the filtration system.
There will be undesirable airborne particles in the working areas of the Pharmaceutical, Food&Beverage, and Automotive Industries. Production facilities of these industries are designed and classified according to the ISO 14644 standard. According to this standard, different steps of processes should have different levels of cleanliness class.
To make this classification reliable; the following solutions must be used. To see our wide variety of solutions below, you can download our LAF brochure on the left panel.
Fan Filter Units
Laminar Air Flow (LAF) Cabinets
Mobile Laminar Air Flow (M-LAF) Units
Down Flow Weighing Booths
We provide the most appropriate solutions with a systematic approach to the expectations and needs of various industries by taking into account long-term cost minimization. With a special program called MICAM (Mikropor Clean Air Management), we monitor, control, and report the filter performances of our solution partners and implement filtration solutions that will ensure optimum energy consumption.
You can download our product catalog and the brochures in order to see our solutions for different application areas on the left panel.