Our Oil-Mist Collectors are designed to be conveniently mounted to existing machinery without costly alterations. They offer high oil removing efficiency, low power consumption, low maintenance cost, quiet operation and easy installation and usage.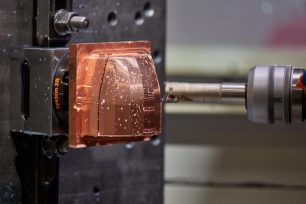 Uncollected coolant can cause slippery shop floors and oil-coated walls that can create safety hazards and increase maintenance costs. In the machining industry, the Oil-Mist Collector is a must. In the lathe and milling operations, the Oil-Mist Collectors help to provide clean air to the environment. In these applications, it is critical that the Oil-Mist is collected to eliminate hazards to the employee and it is prohibited to discharge it into the atmosphere. In many countries, this is regulated by local and national authorities.
OMC Systems offer 5 Step Filtration:
Air Distributor
Impingement Eliminator
Prefilter / Coalescer
Magicbox Fine Coalescer
HEPA Filter (99,95%)
You can download our product catalog and the brochures in order to see our solutions for different application areas on the left panel.