We offer a wide variety of solutions including high efficient EPA, HEPA & ULPA filters and leakage free hood and box variations to prevent microbial load for the industries such as food processing and pharmaceutical which are sensitive for air filtration.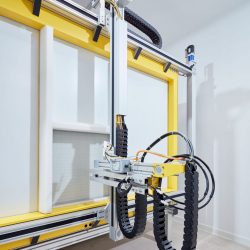 Energy consumption, one of the basic cost items, constitutes approximately 80% of total filtration costs. Because of this high rate, using an air filter with high energy efficiency provides cost saving and also reduces the amount of waste, since the replacement frequency is decreased.
We utilize the latest EN 779:2012 / ISO 16890 test system to develop new products for market needs, improve performance of existing products and to supply filters in accordance with the design specifications. Through individual testing we guarantee the performance and impermeability (leakproof) by using EN 1822 test standard. All EPA, HEPA & ULPA class filters are delivered with the test certificates.
To see our wide veriety of products below, you can download our product catalogue on the left panel.
EPA, HEPA & ULPA Filters
Micro Hood Filters
HEPA Housings
We provide the most appropriate solutions with a systematic approach to the expectations and needs of various industries by taking into account long-term cost minimization. With a special program called MICAM (Mikropor Clean Air Management), we monitor, control, and report the filter performances of our solution partners and implement filtration solutions that will ensure optimum energy consumption.
You can download our brochures on the left panel in order to see our solutions based on automotive and the other application areas.